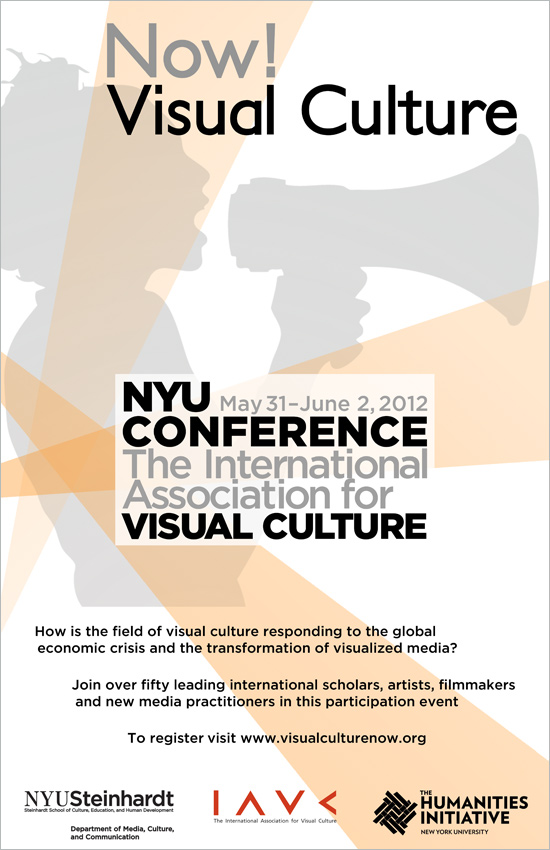 "Now! Visual Culture," a participation event, was held at New York University, May 31-June 2 2012. Its goal was to showcase as broad and diverse a range of visual culture practice as possible in order to create a snapshot of the field of visual culture as it is practiced from Cape Town to California.
At the 2010 Visual Culture Studies Conference in London, a decision was taken to constitute an International Association for Visual Culture. A key principle was that the Association should ask as little as possible financially from its members while involving as many people as possible in decision making. This is the first event organized under this platform.
By the end of the event, delegates experienced and created the transformation of the field from an interaction of cinema studies and art history (as it was in the 1990s) to the present intersection of Web 2.0, iconology, contemporary art practice, and critical visuality studies.
The event was structured so that all delegates attended a single stream of sessions to create a strongly interactive conference experience. The event began with 15×5 minute lightning talks on the state of the field by people ranging from postdocs to professor emeritus.
Each session was independently organized in keeping with the horizontal ethics of the Association.
Art installation by Philippe Safire
Thursday May 31, 2012
4.30—6:00 pm
Opening 15X5 lightning talks: "What is visual culture now?"
Chair, Jill Lane (NYU)
Speakers include: Øyvind Vågnes (U. Bergen, Norway), Wendy Hui Kyong Chun (Brown), Marita Sturken (NYU), Beth Coleman (MIT), Jill Casid (U. Wisconsin-Madison), David Darts (NYU), Thomas Tsang (U. Hong Kong), Diana Taylor (Hemispheric Institute, NYU), Stephen Monteiro (NYU Paris), Jennifer Gonzalez (University of California, Santa Cruz), Lisa Nakamura (U. Illinois, Urbana-Champaign), Bernard Dionysius Geoghegan (Wissenschaftlicher Mitarbeiter Humboldt-Universität zu Berlin), Dena Al-Adeeb, Awam Amkpa (NYU)
6:00—7:00 pm
Journal of Visual Culture reception
Friday, June 1, 2012
9.30 am  Coffee
10.00—11.30 am
"Debt, Academic Labor and the Crisis of the Knowledge Economy"
Session organized by the University of Rochester Visual and Cultural Studies Program
Convenor: A. Joan Saab (Rochester)
Participants: McKenzie Wark (New School University), Magda Szczesniak (University of Warsaw), Martha Rosler (Art Institute of Chicago), Pamela Brown (New School), Ashley Dawson (CUNY), and the OWS Student Debt Campaign
11:30 am—1:00 pm
"Workshop on Scalar Multi-Media Authoring Platform"
Session organized by the Alliance for Networking Visual Culture.
Convenor: Tara McPherson (USC); Workshop led by Craig Dietrich (USC)
1:00—2:30 pm LUNCH
"General Assembly"
Convened by: International Association for Visual Culture
Food provided!
2:30—4:00 pm
"We the Auteur: An Unmanifesto on Collective Filmmaking with Brooklyn Filmmakers Collective and Meerkat Collective"
Convenor: Keith Miller (Gallatin)
Films screened/discussed include:
Welcome to Pine Hill (Keith Miller, writer, director, editor)
Good Fortune (Landon Van Soest, Director)
Stages/ Brassland/ Consensus (Meerkat Media Collective)
4:00—5:45 pm
"Interdisciplinarity"
Convenor: Safet Ahmeti (Skopje, Macedonia, chair Visual Culture in the European Union Network)
Participants: Francesca Martinez Tagliavia, University of Paris 3 Sorbonne-Nouvelle; Max Liljefors, Lund University; Maxime Boidy, (Social Science, University of Strasbourg), Kévin Matz (Political Science, University of Strasbourg), Joanna Zylinska (Goldsmiths College, University of London), Allen Feldman (NYU)
6:00—7:30 pm
"The Practice of Visual Culture"
Chair, Dominic Willsdon (San Francisco Museum of Modern Art)
Workshop participant: Wafaa Bilal, Natalie Jeremijenko, Trevor Paglen, Taraneh Fazeli
Session jointly organized by Art/Media, Culture and Communication at NYU.
Reception: NYU Art and Art Professions
Saturday June 2, 2012
9:00 am BREAKFAST
Graduate Student Forum: "Food and Visual Culture."
Convenors: Carlin Wing, Shane Brennan, Elizabeth Koslov, Jessica Freedman
9:30 am Coffee
10:00—11.30 am
"Locating the Object in Visual Culture Studies"
Moderator: Raiford Guins (Stony Brook University)
Speakers:
Hazel Clark (Parsons, The New School of Design)
Elizabeth Guffey (Purchase College)
Amy Ogata (Bard Graduate Center)
Jaleen Grove (Stony Brook University)
11:30 am—1:00 pm
"Futures of Visual Culture Publishing"
Session organized by the Journal of Visual Culture
Convenors: Marquard Smith (University of Westminster, UK), Mark Little (Head of Ealing School of Art, Design and Media, UK)
Participants: Gary Hall (Coventry University, Open Humanities Press) Sina Najafi (founding editor of Cabinet), Katherine Behar (web editor of Art Journal), Tara McPherson (USC, Vectors/Scalar), Kathleen Fitzpatrick (Director of Scholarly Communications, MLA)
1:00  LUNCH

1:30—2:30 pm
Feminism, Technology and Visuality
Convenor: Lisa Cartwright (UCSD)
Participants: Alexandra Juhasz (Pfitzer College), Tara McPherson (USC), Wendy Chun (Brown), Beth Coleman (MIT), Elizabeth Friedman and Emily Zimmerman (EMPAC), Pooja Rangan, Victoria Vesna, Kimberly Juanita Brown
2:30—4:00 pm
The Localities of Diasporic Asian Visual Culture
Participants:Patty Chang (performance), Gu Wenda, Jason Wing (painting, installation, street art)
Moderator: Alexandra Chang (A/P/A Institute, NYU)
Convenors: Dean Chan (U. Wollongong, Australia) and Alexandra Chang (A/P/A Institute, NYU)
By engaging Australian and American creative practitioners in dialogue, this panel considers the differential histories, locations, and aesthetics of diasporic Asian visual culture, traversing contexts such as Aboriginal Australia, 20th century cartographies, and the Vietnam War via video, installation, street and performance art as well as comics and graphic novels.
4:15—5:45 pm
Giuliana Bruno (Harvard University) and W.J.T. Mitchell (U. Chicago)
keynote 'listeners' and talkback
Chair: Marquard Smith (University of Westminster)